Configuring HP Operation Manager Webservice
Updated on 15 Oct 2018

1 minute to read

Contributors
---
BizTalk360 integrates with HP Operation Manager (HPOM) to offer the BizTalk monitoring capabilities to customers using HPOM. The integration is achieved through the HPOM Incident Web Service Interface. The HPOM Incident Web Service is available to download and install for supported versions of HPOM for UNIX. (HPOM for Windows 8.10 and later installs the HPOM Incident Web Service by default with the management server). You can refer the attached PDF for any installation instructions. You should contact your HPOM team to get the end point and access credentials for HPOM Incident Management Web Service.
Once you have the details, configuring BizTalk360 to send notifications to HPOM is only few clicks away.
Setting Up HP Operations Manager Web Service
1.Log in to the BizTalk360 application 2.Click 'Settings' (gear icon) located at the top of the page 3.Click 'Monitoring and Notification' in the Menu panel on the left side of the screen 4.Click HP Operation Manager 5. HP Operation Manager Incident Web Service URL - You need to provide the path to the incident web service in this text area. For example: https://BNBTS2015ENT/opr-webservice/incident.svc 6. Username and Password - You need to provide the credentials to be able to connect HPOM Incident web service 7. Custom Attributes (Optional) - You can send some custom attributes whenever an alert is sent to HPOM. Application Name and Custom attributes as name/value pair (you need to enter one per line) 8. Disable Alerts going to HPOM - You can check this box, if you want to stop alerts being sent to HPOM console. This is a global settings, once it's enabled there won't be any alerts sent to HPOM 9.Click Verify to validate the entries that you have provided. You will be prompted with a warning if any of the above setting values are incorrect 10.Click Save to save the information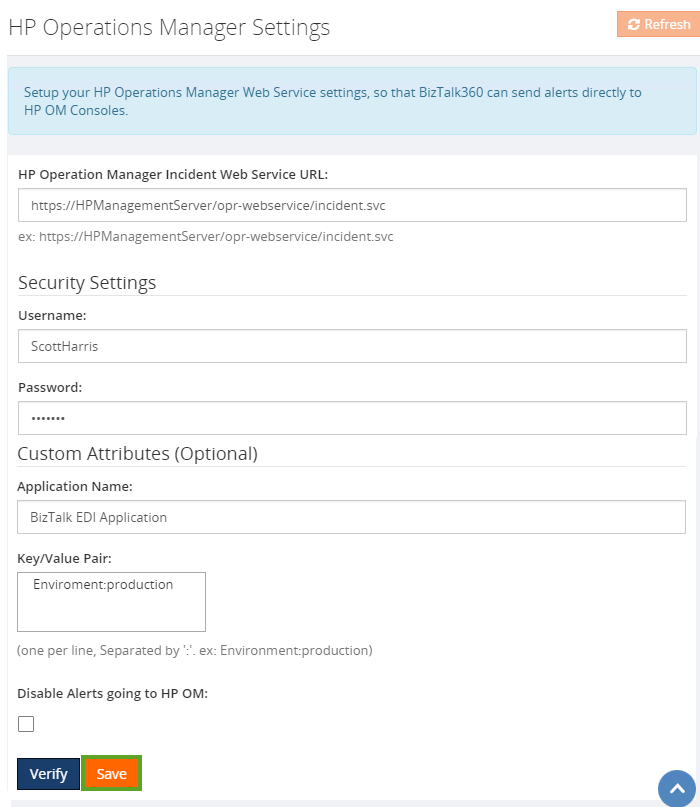 Was this article helpful?
---