ESB Portal
11 Apr 2022

1 Minute to read
ESB Portal
Updated on 11 Apr 2022

1 Minute to read
---
BizTalk Server has the optional feature to install the ESB Toolkit. This toolkit comes with a powerful Exception Framework that can be used to streamline Exception handling. BizTalk360 has an in-built portal to show and action on these ESB Exceptions that are raised via the ESB Exception Framework. Using the integrated portal in BizTalk360 enables you to work in a safe and audited way against the ESB Exceptions.
To be able to use that integrated portal in BizTalk360, you need to configure the database connection string of the ESB database. This is described in this article. Besides configuring the database connection, you can also provide URLs for editing and resubmitting messages.
To configure the ESB Portal, follow the below steps:
Log in to BizTalk360 and s

elect the particular environment

Go to the Environment Settings page

Select

General

dropdown

Navigate to ESB Portal
Enter the ESB Exception Database Connection String. Note that the description below the textbox has a 'copy to clipboard' feature that enables you to quickly copy/paste a connection string. After that, probably you only have to provide the correct Data Source
If ESb Itinerary database and ESB Exception database both are installed in different instances then use ESB Itinerary configuration field to update the ESB Itinerary installed server and database details
In ESB Resubmit Endpoint field update the server URL in which Endpoints are configured
Next select the Endpoints from drop down and select + icon to add the Endpoint for resubmission
Click Validate to check if BizTalk360 can connect to the ESBException database and the configured Endpoints
Click Save to store the configuration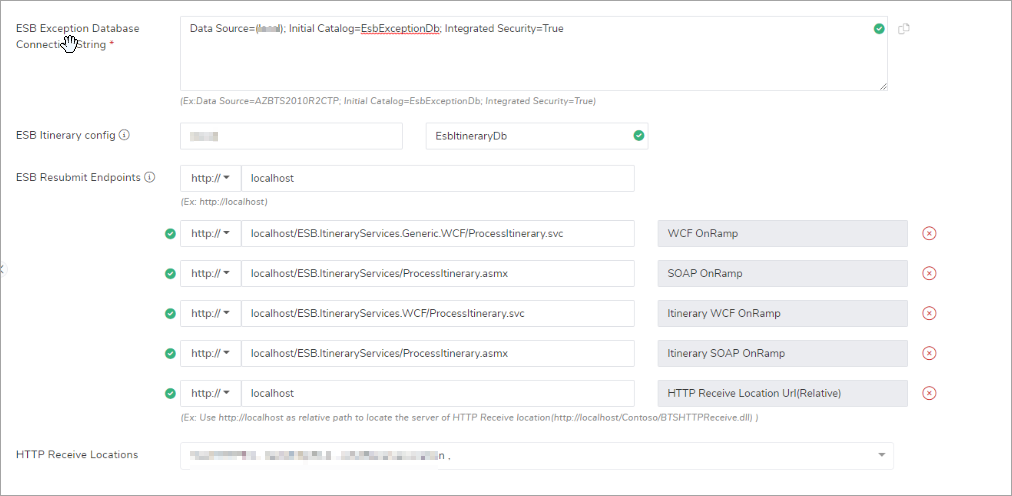 HTTP Recieve Location - User can select the needed http receive locations they wish to list in ESB Management in Administration section for resubmission. When nothing is selected then all the HTTP receive locations in that environment will be listed in the ESB Management section.
---
Was this article helpful?
---
What's Next