Getting Started
Updated on 01 May 2018

2 minutes to read

Contributors
---
This section provides an introduction to Reporting functionality in BizTalk360. It consists of the following parts:
What Is Reporting in BizTalk360
How does Reporting work in BizTalk360
Prerequisites for Reporting
What Is Reporting in BizTalk360
BizTalk360 offers out of the box capabilities that provide graphical display of the key performance metrics of the BizTalk server. In any business environment, these metrics will be of critical importance for the management to take business decisions. There may be occasions when the business users require special permissions to be able to generate a PDF document of the performance counters at a specific time (say, the 15th of every month or every Friday at 6 PM) and share it with the management. BizTalk360 provides the option for users to be able to generate PDF documents of critical performance metrics at specific time periods depending on the requirement.
How does Reporting work in BizTalk360
The BizTalk360 Analytics service includes a sub-service called "Reporting", which is responsible for generating the PDF reports of the performance counters and send the reports to email recipients. The Reporting sub service executes every 60 seconds. Please note that analytics should be enabled for the environment. Only then, Reporting service will be able to generate the reports.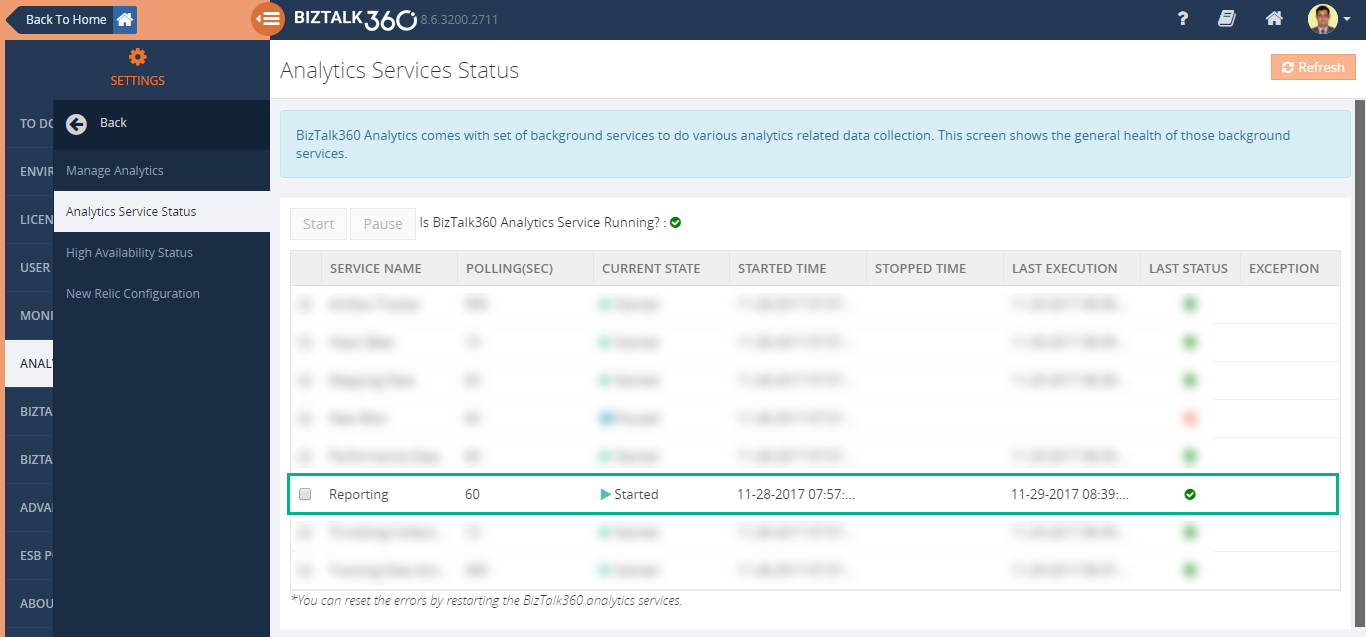 Prerequisites and Key Points to Remember for Reporting
You need to have the Performance and Tracking Data Collection to be Enabled on the environment where you are creating the reports. If this step is not performed, you will see a warning message as shown below in the Analytics Home screen and the Report page where you perform the reporting actions. You need to navigate to Settings and configure the performance and tracking data collection.
Performance and Data Collection is Disabled

Performance and Tracking data collection seems to be disabled on this environment. Click here to enable it.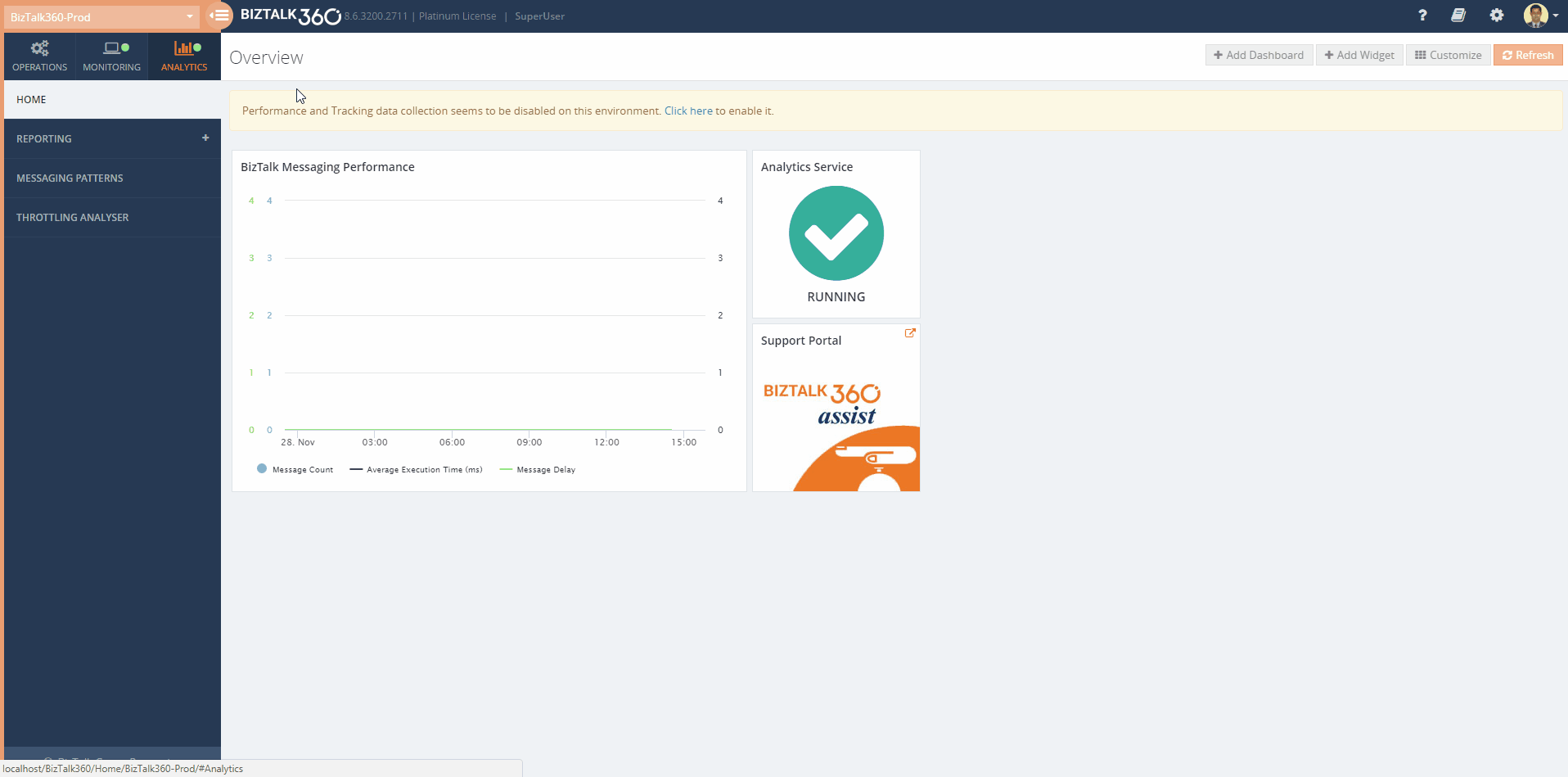 Reporting will work based on the System Time Zone. You can define the System time zone in the System Settings.
Data in the widgets will be displayed based on the User Profile Time.
Daily schedule will work every day from 00:00 hrs to 23:45 hrs. Weekly schedule will work from Monday to Sunday at 00:00 hrs to 23:45 hrs.
In case of monthly schedule, the schedule works from the 1st to 30th of every month between 00:00 hrs and 23:45 hrs. Currently, BizTalk360 Reporting does not support 31st date of the month. Additionally, if a particular date is not present in the month (say, February 29), the BizTalk360 Reporting service will automatically skip that month and continue to the next month.
You can map a single schedule to multiple reports. Emails will be triggered for each report separately.
You cannot delete the Sample report. You need to create a new report from the Report Actions.
Live Data report has the options to download the report as PDF, add a new widget, remove the widget and customize the widget. Historical Report will have only PDF option and it will contain the data which has been sent in the email notification.
Purge Settings - Daily and Weekly reports have a purge duration of 30 days while Monthly reports have a purge duration of 365 days.
BizTalk Reports widgets will be displayed only if the dependency file has been configured. Otherwise, a warning message will appear asking you to configure the dependency file in Settings.
If there is a problem while downloading the dependency file (say, internet disruption and so on), an exception message will be displayed