Licensing & Tiers
01 May 2018

1 Minute to read
Licensing & Tiers
Updated on 01 May 2018

1 Minute to read
---
Share feedback
Thanks for sharing your feedback!
Licensing & Tiers
This article links to a list of the available licensing types in BizTalk360, allowing you to see which components/features are included in each bundle. According to the license you have bought, different components and packages will be available to you. Once you install BizTalk360, the first and foremost step is to activate the license for the default environment that is created. BizTalk360 offers a number of licensing options that vary by the user segments:
Trial - A trial license lets you run BizTalk360 in trial mode allowing access to all features for a specified time period (usually 14 days). The trial period will start from the date of activation. Product Specialist - Product Specialist might be a software developer, a systems administrator, or SME's who wants to use BizTalk360 to stay informed about the product. Partner - Partner licenses is available for consulting companies who specialise in BizTalk Server/Integration consulting. Commercial - If you want to use BizTalk360 for commercial purposes, please contact us. We will advise you on the best package and license type to fit your needs. The available grades of commercial licenses are Bronze, Silver, Gold and Platinum.
The below screenshot depicts the various features available under different grades of commercial license: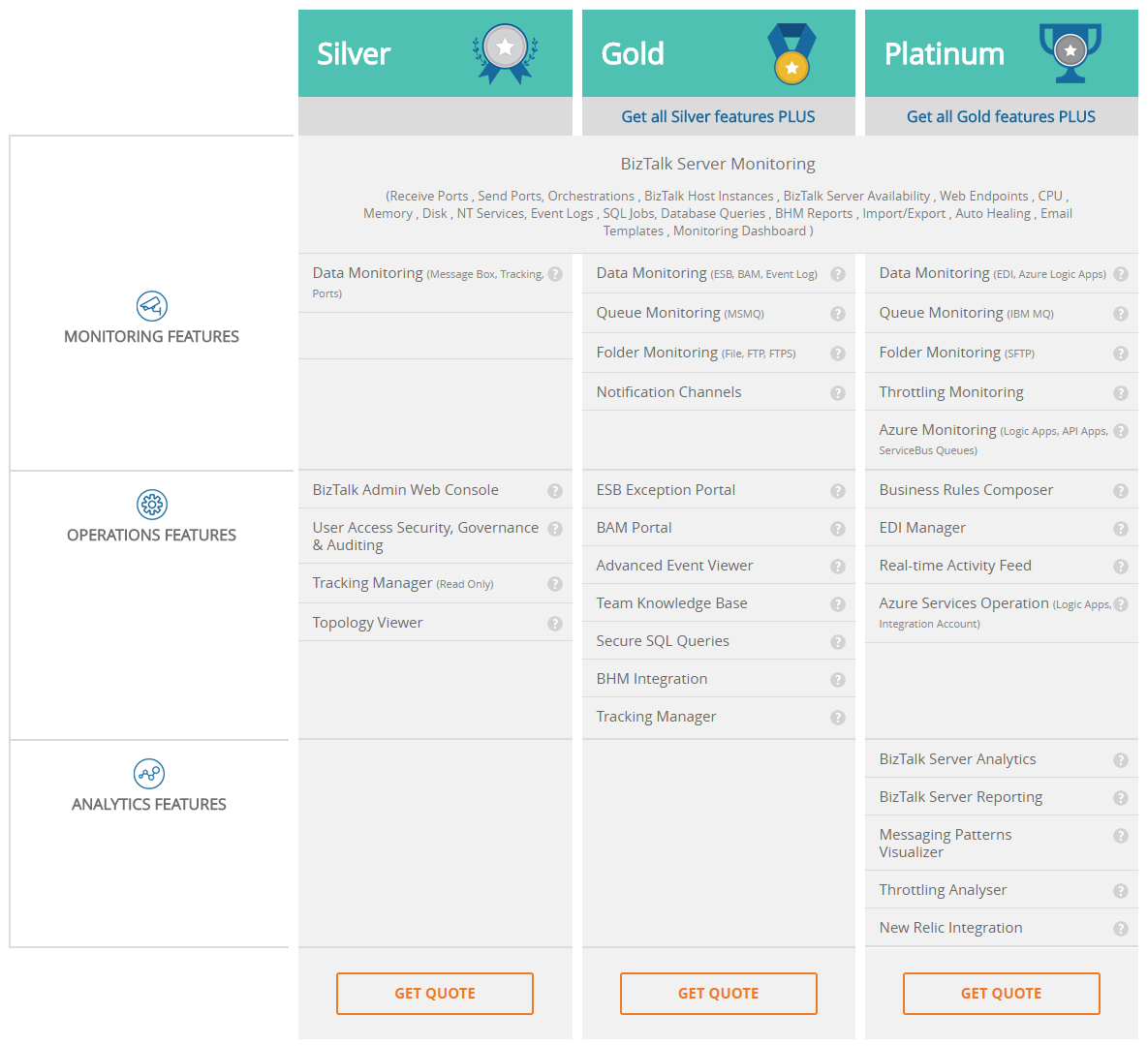 What is an Add-On?
It is fairly common that not one solution fits for all businesses, people may want tailor-made order options when purchasing a commercial grade licenses. In a live scenario, a business purchasing Silver grade commercial license may want few features that is available under Gold/Platinum grade. Say, ACME corporation wants all feature available in Silver grade plus BAM Portal (from gold grade) and Analytics Dashboard (from platinum grade) in this case, ACME corporation has the option to purchase Silver grade license and add-on BAM portal and Analytics Dashboard features as custom add-on license. For your custom license requirements please contact our license team.
---
Was this article helpful?
---
What's Next