Configure ServiceNow
Updated on 30 Apr 2018

2 minutes to read

Contributors
---
ServiceNow automates enterprise IT operations, creating a single system of record for all IT processes within an organization. The advantage with BizTalk360 is that ServiceNow is one of the pre-defined notification channels along with Slack, WebHook and Microsoft Teams that are available with BizTalk360. All that you need to do is, configure the ServiceNow Notification Channel and map the notification channel with the Alarms in the environment in order for BizTalk360 to be able to trigger notifications into ServiceNow.
To do this, you must perform the following - Configure ServiceNow channel in BizTalk360 by entering the Service URL, Username, and Password
Enabling ServiceNow Notification channel in BizTalk360 Alarm
These steps will be described below.
Configuring ServiceNow Channel in BizTalk360
Log into the BizTalk360 application
Click the 'Settings' icon found at the top right corner of the page
Click 'Monitoring and Notification' from the Menu panel on the left side of the screen
Click Manage Notification Channels
Select the checkbox against the ServiceNow Channel name (B360.Notifier.ServiceNowNotification)
Click Configure
ServiceNow URL - Enter the URL of the ServiceNow instance
Username - Enter the username of the ServiceNow instance
Password - Enter the password for the ServiceNow instance
Click the Configure button to save the ServiceNow configuration settings
Once you click configure, the Is Configured field changes from No to Yes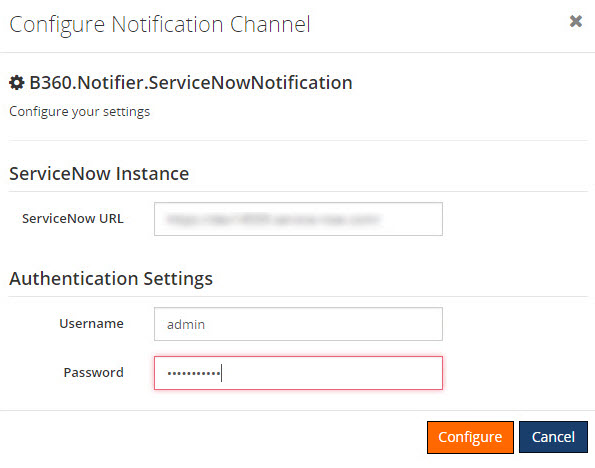 Enabling ServiceNow Notification Channel in BizTalk360 Alarm
Once you have configured ServiceNow channel in BizTalk360, you can enable this notification channel from Alarm creation blade to complete the process. BizTalk360 will start monitoring the status of the artifact based on the threshold condition. If there is any threshold violation, you will receive the alerts to configured ServiceNow notification channel.
To enable ServiceNow notification channel, you need to follow the steps as shown below:
From Home dashboard, click the Monitoring tab
Select Manage Alarms
Click New Alarm
Select Threshold Monitoring to create a threshold monitoring alarm
Enter a descriptive name for the Alarm (ServiceNow Notifications), Email id, and Alarm Description
Click Next. Make the necessary settings for Threshold violation.
In the Notification Channel(s) section on the Advanced (Notifications) screen, you will notice ServiceNow is listed with a toggle icon. Toggle the icon to enable the ServiceNow Notifications.
In order for BizTalk360 to be able to trigger notifications into ServiceNow, you need to enter the short description, the impact, and urgency into the corresponding fields
Click OK to create the alarm
Map the alarm with any Application artifacts and the BizTalk Server environment
Once the mapping is done, whenever there is any threshold violation in the environment, you will receive the alert notifications on the ServiceNow portal. You need not log into BizTalk360 to view the status of the environment at any point of time.
Sample Notification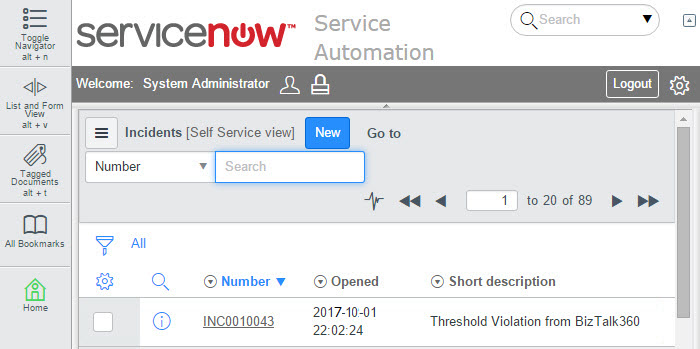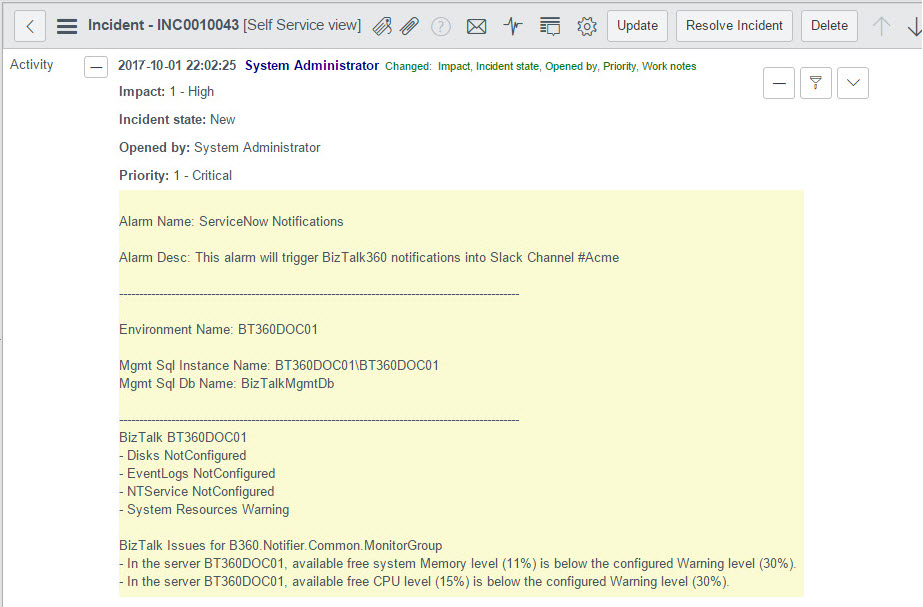 Was this article helpful?
---