EDI Dashboard and Widgets
Updated on 01 May 2018

3 minutes to read

Contributors
---
The main idea of having the EDI dashboard in BizTalk360 is to provide easy access to different EDI properties in BizTalk360 "in a single click". To achieve this, we picked up the key EDI properties and preconfigured the widgets in BizTalk360 that "we thought" customers would be using more often on a day-to-day basis. BizTalk360 Dashboards are easy to use and developed with non-BizTalk users in mind, presenting the data in an understandable and functional view. Similar to other dashboards in BizTalk360, EDI Reporting Dashboard is a widget-based dashboard. The users who have access to EDI Reports can view the EDI Dashboard. You can add three different categories of widgets to this dashboard:
EDI Interchange Aggregation widgets
EDI Transaction Set aggregation widgets
AS2 messaging aggregation reports
You can edit the EDI Widget Configurations to change the Date Range between 24 hours, Last 7 Days and Last 30 Days. By default, the data range is set at 24 hours range.
EDI Interchange Aggregation widgets
| Widget Name | Explanation |
| --- | --- |
| Interchange Count by Partner identifier (Top 10) | This is a bar chart widget that lists the top 10 partner identifiers based on most number of interchanges processed count. |
| Interchange Count by Partner identifier (All) | This is a grid based widget that lists all the partner identifiers along with the count of Received and Sent Interchanges. |
| Interchange Count by Agreement Name (Top 10) | This is a bar-chart based widget that lists the top 10 agreement names based on the number of interchanges processed. This aggregation is not available in the BizTalk administration console reports. |
| Interchange Count by Agreement Name (All) | This is a grid based widget that lists all the Agreement Names and number of interchanges processed. |
| Interchange count by Partner Name (Top 10) | This is a bar chart widget that lists the top 10 partner names based on the number of interchanges processed. This aggregation is not available in the BizTalk Admin console. |
| Interchange count by Partner Name (All) | This is a grid based widget that lists all the Partner names and number of interchanges processed. |
| Interchange count by encoding | This is a bar chart widget that lists the number of interchanges by encoding (X12/EDIFACT). |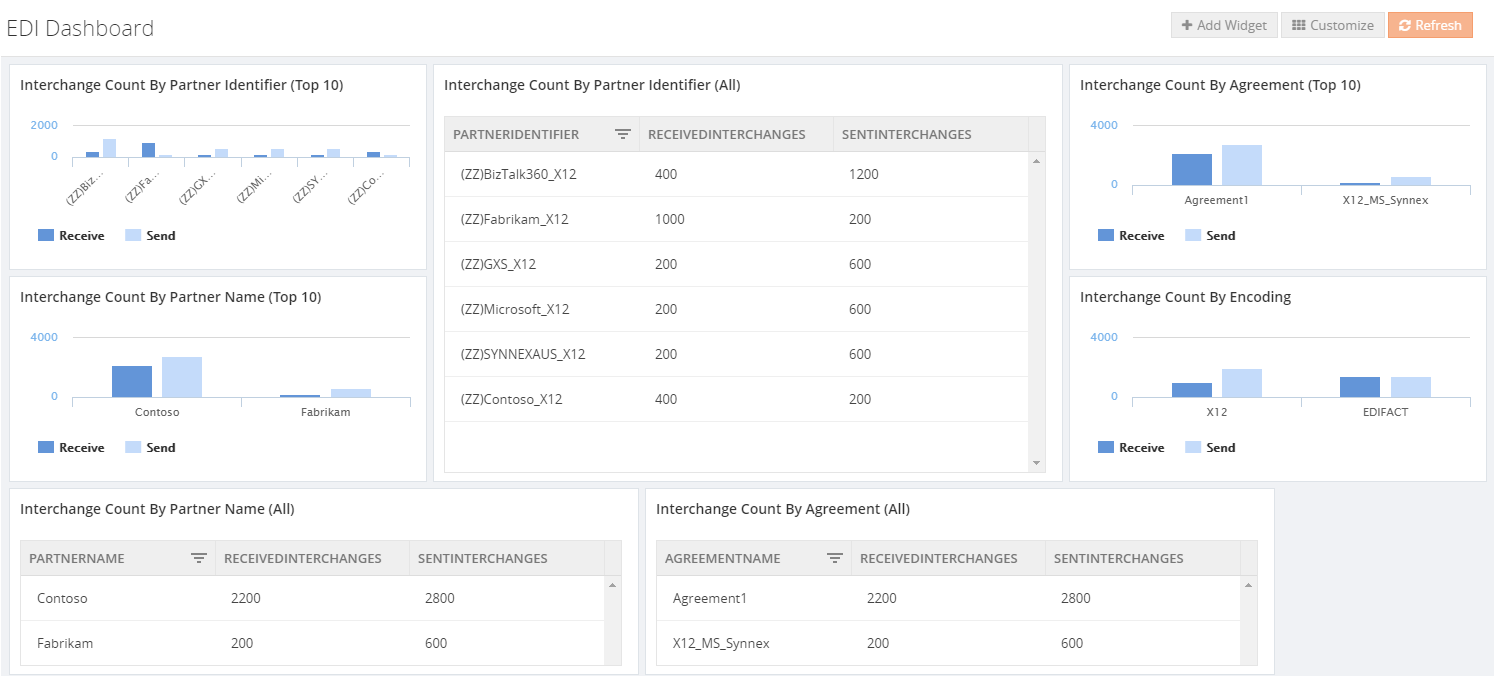 EDI Transaction Aggregation widgets
| Widget Name | Explanation |
| --- | --- |
| Transaction Count by Partner identifier (Top 10) | This is a bar chart widget that lists the top 10 partner identifiers based on the number of transactions processed. |
| Transaction Count by Partner identifier (All) | This is a grid widget that lists all the partner identifiers and the number of transactions processed. |
| Transaction Count by Transaction Type id (Filtered by Partner Id) | This is a bar chart widget that lists the number of transaction sets processed on transaction type for a selected partner in the drop-down box. |
| Transaction Count by Transaction Type id (All) | This is a grid widget that lists the number of transaction sets processed by partner id and transaction type id. |
| Transaction count by ACK Status (Filtered by partner id) | This is a bar chart widget that lists the top 10 partner names and number of transactions processed. This aggregation is not available in the BizTalk Admin console. |
| Interchange count by Partner Name (All) | This is a grid based widget that lists the number of transaction sets processed by partner id and transaction type. |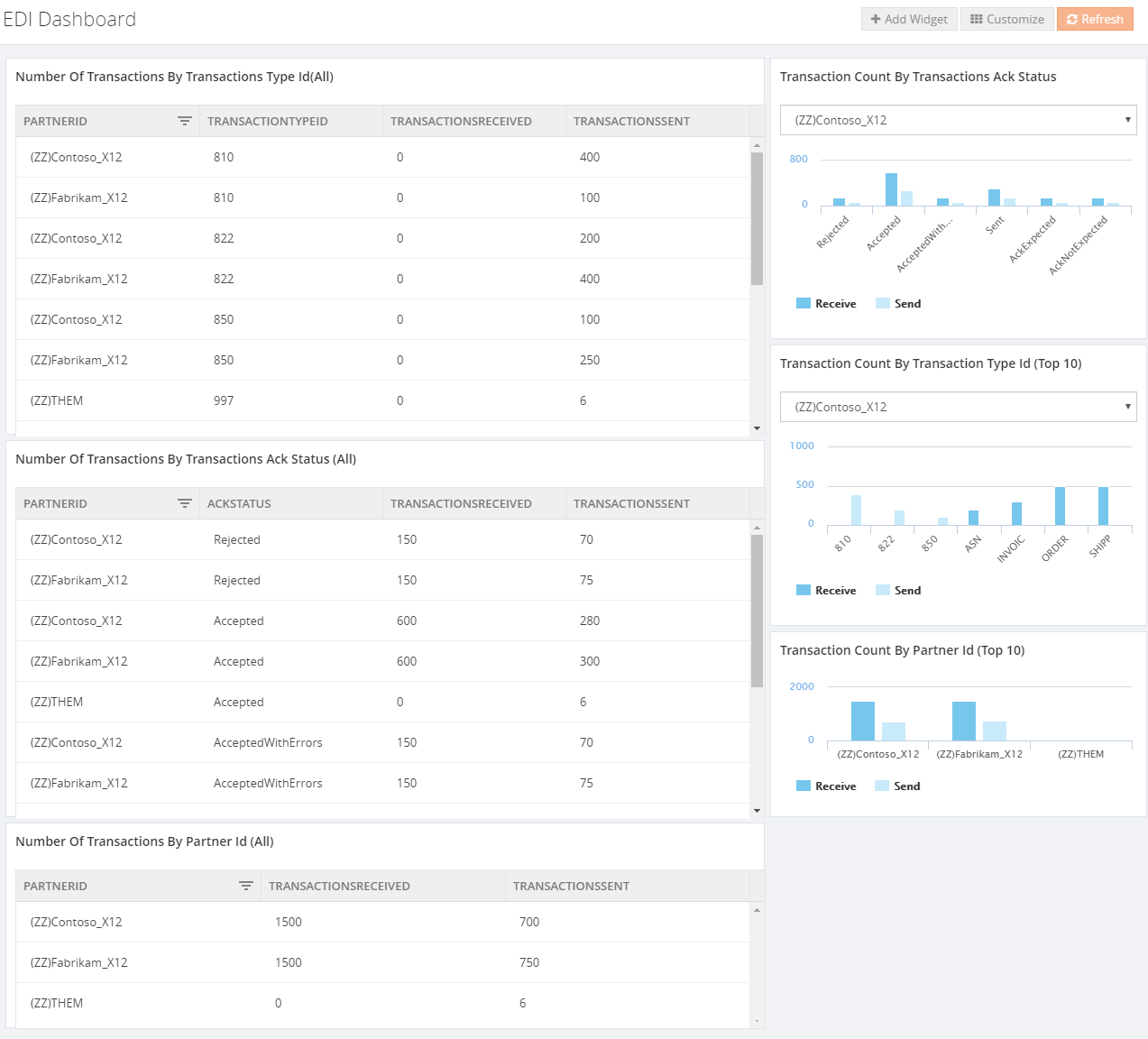 AS2 Messaging Aggregation reports
| Widget Name | Explanation |
| --- | --- |
| Number of AS2 messages by Partner (Top 10) | This is a bar chart widget that displays the top 10 partners by the number of AS2 messages processed. |
| Number of AS2 messages by partner (All) | This is a grid based widget that displays all the partners by the number of AS2 messages processed. |
| Number of AS2 messages by Partner and MDN status | This is a bar chart widget that displays the number of AS2 messages processed by MDN status for a selected AS2 party |
| Number of AS2 messages by partner and MDN status (ALL) | This is a grid widget that displays the number of AS2 messages processed by MDN status for all AS2 parties |
| Number of AS2 Messages by MDN Status | This is a bar chart widget that shows the number of messages processed by their MDN status. |