File Locations
20 Jul 2023

1 Minute to read
File Locations
Updated on 20 Jul 2023

1 Minute to read
---
Share feedback
Thanks for sharing your feedback!
This section explains how you can monitor your File Locations. Check the below articles to understand how to set up monitoring:
File - Monitor the number of files in File shares
FTP - Monitor the number of files in FTP sites
SFTP - Monitor the number of files in SFTP sites
How to assign permission for user(s) to manage File Locations
By default, only Super Users have permissions to grant access to set up monitoring in BizTalk360. For Normal users, in order to be able to set up monitoring on File locations, a super user needs to grant the permissions under the User Access Policy section in BizTalk360 Settings.
Follow the steps as shown below to grant access permissions to a normal user:
Log in to BizTalk360 (as a Super User)
Click the 'Settings' icon at the left of the window
Select 'Team Management' from the left navigation menu
Create a new user by clicking the Add User button
Enter the user name as Scott, domain name, and select the environment for which the user will have access (say, Testing/Staging/Non-Production) and click 'Next'
Choose the Applications for which the user will have permission and click Next
In the User Access Profiles (module wise) section, enable the toggle for the Monitoring section. This will open up the options available under the monitoring section.
Select the Manage Alarm check box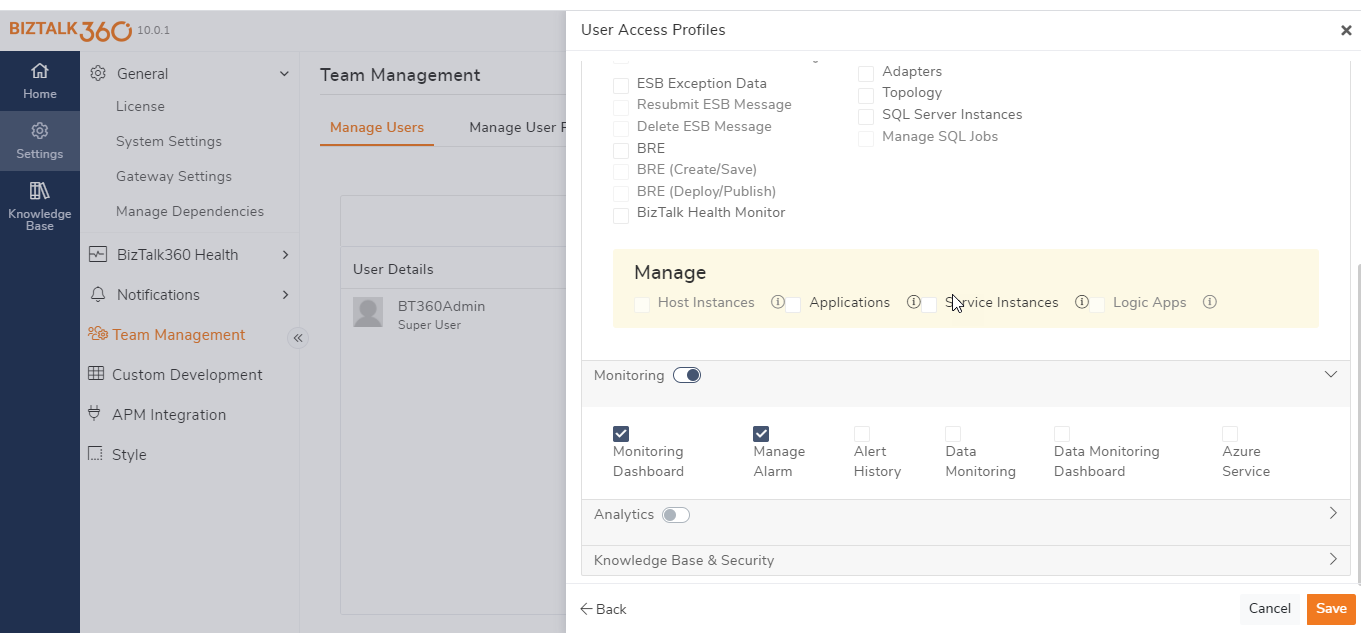 Click Save to save the user permissions
The user will get saved within BizTalk360


Restart Host Instance
Users have the option to enable automatic restart of the host instance in the event of a threshold violation caused by files getting stuck in the receive location.
The configuration for restarting the host instance can be set up in the environment settings, as explained in detail in this documentation: https://docs.biztalk360.com/docs/mapping-configurations
After completing the configuration, enable it for the necessary file location (receive location) threshold monitoring configuration.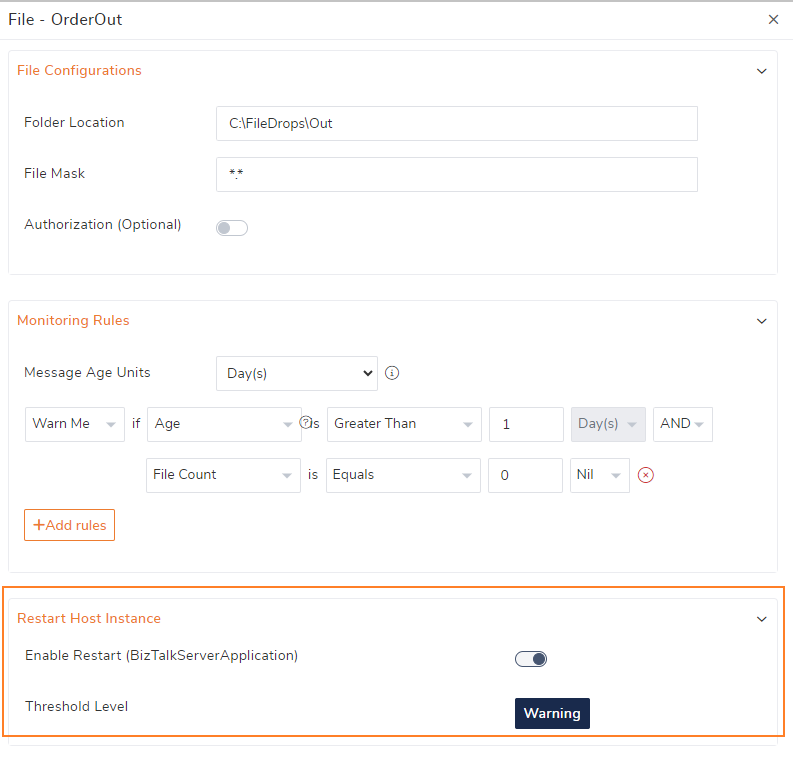 ---
Was this article helpful?
---
What's Next