Configure SMS Gateway
01 May 2018

2 Minutes to read
Configure SMS Gateway
Updated on 01 May 2018

2 Minutes to read
---
You can configure BizTalk360 to receive notifications as text messages (SMS) on your mobile phone. BizTalk360 uses its own SMS gateway which is deployed in Windows Azure (High Availability with multiple instances), so that users don't need to worry about third party integration. This feature is an Add-on and you must contact the BizTalk360 Sales team to get a valid user/secret key and some SMS credits in order to use this capability.
The SMS Gateway screen allows administrators to configure certain values related to gateway settings. You can see the status information about the daily limit and the number of SMS messages you have sent on the particular day. Super users can restrict the number of messages sent daily (to avoid financial loss) by entering the value and clicking the "Verify and Save" button. When you save the settings, you'll receive a SMS message confirming the changes. The Proxy Settings section is optional as you need to configure it only when there is no internet connection directly on the server.
Setting Up SMS Gateway
Log in to the BizTalk360 application
Click 'Settings' (gear icon) located at the top of the page
Click 'Monitoring and Notification' in the Menu panel on the left side of the screen
Click Gateway Settings

API URL - The public API URL is https://api.biztalk360.net, which is preconfigured when you install BizTalk360
User Key & Secret Key - Enter the key information that you have been provided by BizTalk360 sales team
Front Number/Name - This is the name that will be displayed in the message that you receive from the system
Admin Number - The number where admin related notification message will be sent. Example: If the number is +446874451422, enter the number without the "+" in front
Daily Limit - Sets the maximum number of messages you wanted to send in a day. This is a safety measure to not use all of your credits, if there is some problem or wrong alert in your environment
Sent Today - Gives you the count of messages transmitted today
Proxy Settings (Optional) - You can define the additional proxy settings, if required, when the server where you have installed BizTalk360 does not have an internet connection and you still want to send SMS notifications about the alarms configured in your environment. Typically you must have access to https://api.biztalk360.net URL from the server where BizTalk360 is installed

You can verify whether the entered values are working as expected by clicking the Verify & Save button
If the above entered information is valid, clicking Verify & Save will save the information and send you an SMS confirmation message to the admin number provided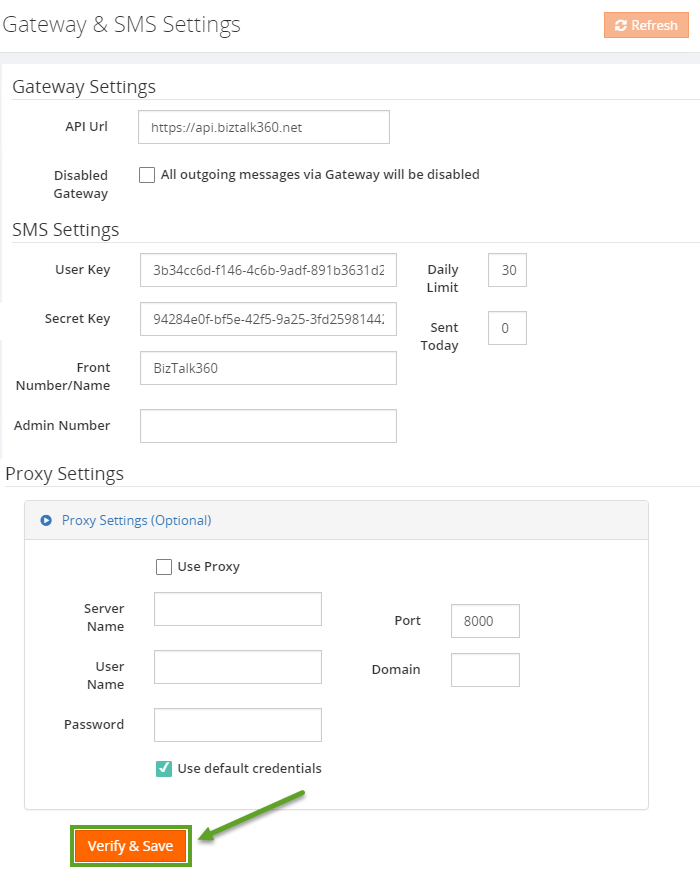 ---
Was this article helpful?
---
What's Next